I admit it. I don't follow hockey like I used too. I still enjoy watching it on occasion, but with the salary cap moving players all around, it has fallen down on my list of sports priorities. It's now behind things like MMA and poker. But I still pay attention and the Wings had a few big moves this week.
They
extended
head coach Mike Babcock's contract for four more years. This is a great move for two reasons:
He is one of the greatest hockey coaches of all time. His ties to the Canadian National Team can be a major tool in getting free agents.
His hair is absolutely magnificent. Don't believe me? It has its own Facebook page. It has more friends than I do. I mean just look at it...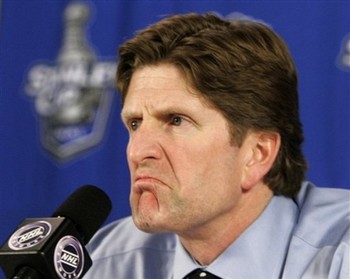 Just heard there's humidity a'comin.
In less awesome news, Kirk Maltby
retired
. Malts was one of those guys that played forever before you even realize it. He was a contributor to four Stanley Cups in Detroit. And not that I need a reason to post this, but Maltby was involved in this...
So the Wings have 5 points through 3 games, and will make the playoffs.....blah blah blah. I wish making the playoffs was such a foregone conclusion for the other Detroit teams.